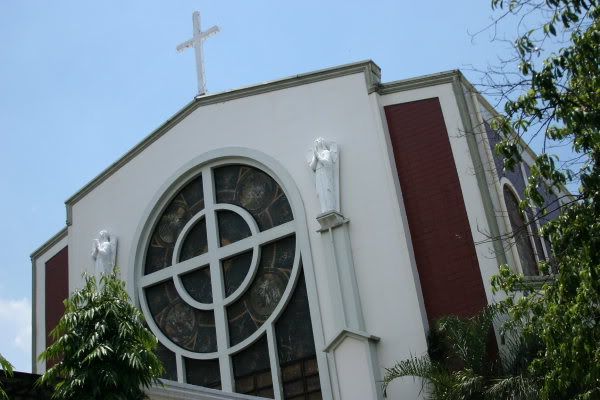 Buffalo cor. Duke Sts. , East Greenhills
Mandaluyong City
P.O. Box 523, Greenhills
Tel: 725-2044; 721-3842
Fax: 724-4139
Pastor:Fr. Noel B. Magtaas, OSJ
Parochial Vicar: Fr. Napoleon Jinon, OSJ
Attached Priest: Fr. Aurelio De La Cruz, OSJ
Fr. Allen Vic Cartagena, OSJ
Wedding Fee
: (as of 2008)
P 25,000 -- with Aircon and inclusive of Simple Flower décor, Soloist & Organist, Lighted Chandelier, Red Carpet, Use of Electricity for Video
P 18,000 -- without Aircon
P 3,000 -- additional for sound system
P 500 -- aisle tulle
P 1,000 -- curtains
Reviews and Feedbacks from Previous Clients:
"The church is lovely. . . . Pre-wedding, it was such a breeze. Nancy of SSJ was very, very helpful and nice. " --
Cindy & Noel , 28 feb 2008
"They were very organized in compiling our document/requirements. . . The altar was really nice and it had a serene feeling to it. " -- J&M, 03 january 2009



"You can't ask for a more understanding and a more accommodating staff than the one's in SSJ's parish office. The church itself is beautiful with its newly renovated altar and stained glass window."
-- Dan + Neva, 02 feb 2008


"Malamig enough ang aircon, admin staff are nice, mabait & magaling yung parish priest na nagcanonical interview, ample parking space, nice naman ang aisle flowers na kasama sa package" --
galvez-perando

,

28 june 2008


"The church is beautiful. Not too big, not too small either. Security is very tight. . . We paid additional 3K for bringing our own system for the band and 1k for the photo/video permit. Additional 500 for the pew's tulle and 1k for the curtains." --
Lia + Hoff, 26 july 2008

"Ever since Camz suggested Santuario, everything was put into place. From pre-cana, canonical interview, confession until wedding day, no hassle at all!! . . . The church is very organized. They will give you detailed list of things that you need to complete." --
Lheng + Far-out, 18 may 2008
"I got disappointed with their staff on the following reasons: they failed to inform us properly on the documents needed thus, pabalik balik kami and causes a lot of inconveniences, on the day of our wedding, there were no sacristans or enev one coordinator to help us out. I felt that their rates are unreasonable; there were no excellent service that goes with it." --
Lyneth + Jigs, 20 april 2008
"I was able to personally speak with the in-house florist, Mang Buboy . . . He promised to make the arrangements look full and pretty - and he did! . . . The secretaries in the chuch were very easy to talk. . ." --
Amanda + Raymond, 14 dec 1007